Try
it for Free!
Saftea® Liner is changing the way restaurants serve iced tea!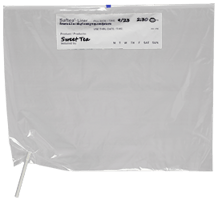 Try Saftea® Liner FREE for 7 days, and you'll enjoy benefits such as:
Safe, sanitary dispensing with every serving

Consistently great, fresh tasting tea

Less than a minute to change a liner
No cleaning chemicals required
Saftea® Liner lines your beverage urn dispensers, making cleaning or changing flavors a snap. In less than a minute, your dispenser is clean and ready to serve the next freshly brewed batch of iced tea.
Your employees will thank you.
Your customers will be back for more.
No Credit Card Required. Try it, Risk Free!
Your 7-day free sample Includes seven Saftea® Liners, one pinch-tube spigot, and Instructions on Installation and Use.
Request Your 7-Day Free Trial!